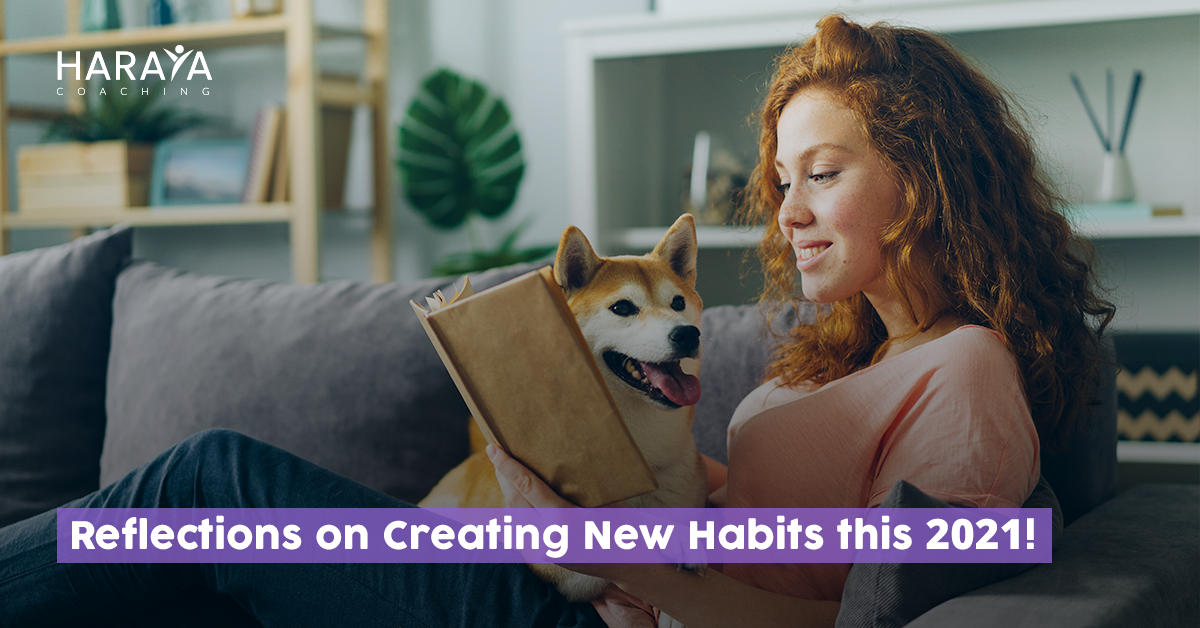 Reflections on Creating New Habits this 2021!
It is 2021 and the start of the New Year… and one of the first few messages I read in our chat group is this post:
My GOAL in 2021
Is to Accomplish the Goals I set in 2020
Which I should have done in 2019
Because I made a promise in 2018
Which I planned in 2017
I found this so hilarious and was laughing silently, and yet a little bit later I was asking myself, how much of this is true for me?
Suddenly, it wasn't entirely funny at all…
When I think about it, I have accomplished so many goals in my life which I am grateful for, and I also have a number of "unfinished" goals that I started way back when. Case in point is losing weight, this has been a perennial struggle for me and year after year I say that I will lose weight. At a certain point, I had lost weight and then I gain it again… at times maybe a little more than what I had lost. 2020 was no different, in fact, I told myself that with more time at home then I can do my exercises and eat healthier food. It started ok, and then it turned around in the last quarter and now am back where I started, or worse. The more I think about it, the more I realize that something has to change in order for me to lose weight. I know what needs to be done, eat right, do some form of exercise, sleep well. Then I ask myself, what's preventing me from doing all of these things?
One question stuck in my head as I was reflecting on this, is the goal really to lose weight or is losing weight the reward for achieving my goals? If so, what then is the goal? My realization is that the goal, at least for me, should be to create new habits and practice them committedly and consistently. And as I create new habits, the reward of losing weight and becoming healthier which will be a consequence of my daily actions over time. James Clear in his book 'Atomic Habits: An Easy & Proven Way to Build Good Habits & Break Bad Ones' says, "You should be far more concerned with your current trajectory than with your current results." This redirects my focus to keeping with the daily new habits and let the reward of losing weight take its natural course.
So, my first step is to map out my plan, with the intention of creating new habits that will support my desired outcomes.
Be Clear About My Purpose

What makes this important to me?

Who else will be positively impacted by this?

How can this make a difference in my life?

Define My Trajectory

What outcomes would I like to happen in 2021?

How long will it take for me to get to the desired results?

What resources do I need?

Outline My Everyday Why

What daily actions do I need to do?

How can I ensure that I will do this consistently?

What are my potential roadblocks?

Kaizen = Continuous Improvement

How can I do things better today than yesterday?

What other areas do I need to improve?
Once the plans are clear, then it is time to do the grind and make it happen.
One side note I should remember, studies have shown that when you write down your plans the chances of success is higher, and according to the American Society of Training and Development (ASTD) your chances of success can increase to 65% when you share your plans with someone, and you can bring that up to as much as 95% success rate when you set regular updates/discussions with an accountability partner.
How about you, what new habits would you like to create in your life? If you need help, try speaking to a coach. Depending on what part of your life you would like to improve, there are different types of coaches who can help you, such as a Life Coach, Business Coach or a Career Coach. As Bill Gates said in his TedTalk, "Everyone Needs a Coach".
Looking forward to creating new habits in 2021 and beyond!